Arp 335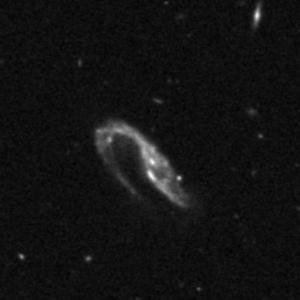 NGC 3509, 13m0, 2.1' x 1.0', SA(s)bc pec

Distance: approx. 350 MLy

Leo
Uranometria: S. 236 (old), S. 112-left (new)

DSS II (5' x 5')

further information:
SDSS Image
Messier45.com

Uwe Glahn, 16", 225x, fst 6m5:
1:3 NE-SW elongated galaxy, faint with low surface brightness, at the NE end very faint break to the S
Arp 336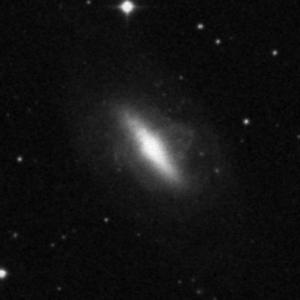 NGC 2685, 11m2, 4.5' x 2.4', (R)SB0+ pec

Distance: approx. 40 MLy

Ursa Major
Uranometria: S. 44 (old), S. 26-left (new)

DSS II (5' x 5')

further information:
SDSS Image
Messier45.com

Uwe Glahn, 24", 390x, fst 6m7:
famous Helix galaxy, brightest ring galaxy in the sky, galaxy itself 1:3-1:4 elongated NE-SW, brighter, elongated core, on the core to the NW very faint haze of nebulosity, no nebula on the other side of the core

Martin Schoenball, 10", 139x, fst 6m7:
Bright galaxy, elongated about 3:1. Very much brighter, oblong middle with a very faint core. No peculiarities visible.
Arp 337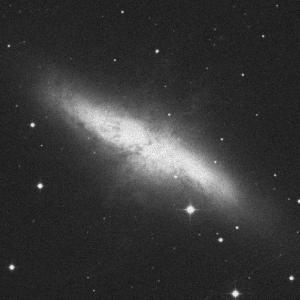 Messier 82, 8m6, 11.4' x 4.3', I0

Distance: approx. 8 MLy

Ursa Major
Uranometria: S. 23 (old), S. 14-left (new)

DSS II (10' x 10')

further information:
SDSS Image
Messier45.com

Martin Schoenball 10", 221x, fst 5m7

Matthias Juchert, 8", fst 6m7:
A wonderful object full of details! At 126x very large, very long. The galaxy is divided into 3 parts by 2 dark lanes. All in all the galaxy appears very mottled. The southern part between the two dark lanes is characterized by obvious bright knots. Three more knots are visible in the western part of the nebula. The eastern part is not structured that much.